HMO-Style Accommodation
HMO or House in Multiple Occupants is a living facility where 3 or more than 3 tenants hire a living property to live in it; while sharing basic facilities including kitchen, washing areas, bathrooms, and communal areas. One of the prerequisite of an HMO-Style accommodation is that the tenants should not be related to each other.
Advantages of HMO Style Accommodation
There is an increasing trend to hire HMO properties because of their multifaceted advantages. Some of the key benefits of hiring an HMO- style property include:
Privacy
Affordability
Provision of basic amenities (furniture and electric appliances etc.)
Socializing with other tenants
Shared utility bills (water, electricity, gas etc.)
Sharing of household tasks (cleaning, cooking, grocery shopping, washing)
More time on hand with shared tasks arrangement
Access to shared communal areas (TV room, lounges, staircases, lawns etc.)
Healthy interaction with other tenants
Making new friends
Hassle-free moving-in and out because of the provision of furniture, cutlery, crockery and utensils etc.
Cost effective solution for students and employees looking for cheaper living property with all facilities
Who Choose To Live in An HMO Property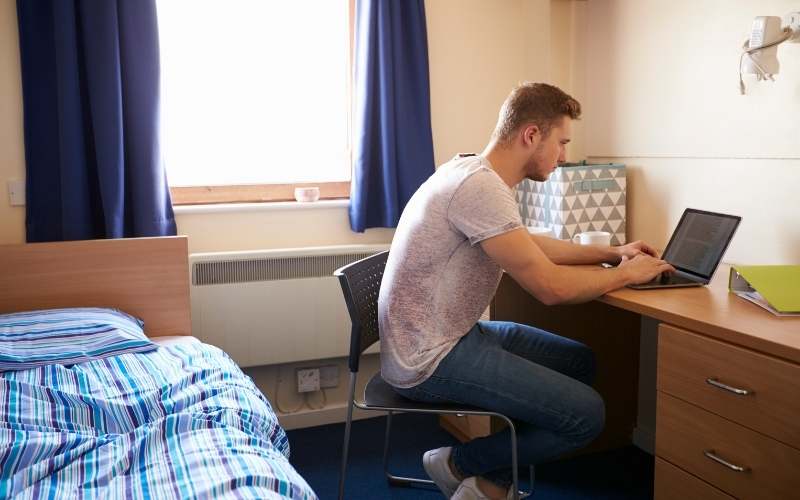 Keeping in view the various advantages of HMO-style property a large number of tenants from different walks of life opt for this type of living facility. Most of them often are unable or unwilling to rent a separate flat/house or any other self-contained accommodation. The list of tenants who choose to live in HMO property includes:
Students
Lodgers 
Contract workers
Professional Workers
Residents in hostels/refugees 
Social workers
Older house sharers who cannot afford to buy or rent their own property 
Seasonal workers (for example live in staff hotels, restaurants)
Under training medical staff
Young professionals
Recent graduates in search of job
Young non-professionals
An important tip for HMO accommodation landlords is not to mix the tenants' types; because of their varied interests, routines, and mindsets. You need to decide on your target tenants based on the location of your HMO property, facilities and amenities you can offer, the neighborhood and some other important factors that you can manage easily based on the demands and requirements of each tenant type.
Main 4 Types Of Tenants Of HMO-Style Property 
Although the types of tenants who choose to live in HMO-style property are quite wide. The main 4 types of people who live in HMO property are as follow:  
HMO Property For Students
Statistics show that students capture the major percentage of HMO property. This includes mostly students who have to travel and settle away from home for educational purposes. Undergraduates, postgraduates, overseas students and language school students, all prefer hiring HMO accommodations for living purposes.
Cities and towns with an increasing number of universities and colleges tend to receive a greater chunk of students as HMO tenants. Students come around before the start of the academic year of the university and colleges. Many students go on leave to their hometowns during term breaks and other off days, giving time and space for landlords for maintenance.
HMO Property For Young Professionals
Young professionals are mostly used to living in an HMO property during their student years. They opt for HMO-Style accommodation keeping in mind its various advantages. Young professionals, on-job trainees, doctors, lawyers, nurses, paramedical staff and many other graduates who just got a job in another city or area prefer moving into HMO accommodations. Mostly they are familiar with the HMO-style property living standards and working patterns, so they find it easy to fit in this type of living style.
HMO-style accommodation offers a great opportunity to socialize with new people, to make new friends and it saves you from being homesick while living away from your home town. Rents are low as compared to hiring own flat, basic amenities are provided, utility bills are shared, socializing opportunities and many other benefits attract young professionals to hire HMO property for the tenure while they are employed in another place.
HMO Property For Unemployed People
Unemployed persons who have come from some other place in search of jobs also select HMO-style accommodations to keep their living expenses to the minimum. Some people who get jobless due to any reason also shift from normal rented properties to HMO properties to curtail rental expenditures. Such tenants might delay paying rent depending on their situation, but they do not demand much maintenance.
Blue Collar Workers
Blue Collar workers refer to the working class who performs manual labor work. These are the workforce involved in hard labor like construction work, maintenance, agricultural tasks, manufacturing, mining, factory labor etc. Blue-collar tenants do not demand much of the facilities or ask for higher r level of living standards. They are mostly on low-paying jobs so they look for an HMO property which they can afford easily along with the provision of basic amenities. These tenants are likely to come as couples; HMO accommodation landlord can charge them accordingly if the property license allows living of couples.
Visit: HMO Style Accommodation in Stoke-on-Trent
End:
These are the major 5 types in which HMO accommodation tenants are categorized. The concentration of any one type of tenant in specific area depends upon the location and demographics of that area. HMO properties closer to universities and other educational institutes tend to attract more student tenants. Areas with transport facilities, local business hubs and activity areas definitely have more professional and young workers as tenants of HMO accommodation. One type or the other, the occupants of HMO-style accommodation are mostly people with a limited income who are looking for an affordable and decent living property where they can also enjoy privacy and independence.